Pricing
Apprenticeship Tracker is available through two different pricing options. The application, related FilemakerPro softare, and basic support/training can be purchsed outright for a one-time charge. Apprenticeship Tracker is also available for a monthly fee which includes the application—all standard modules, and a training/support package.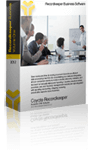 Standard
Starting at $5,000.00
Own the current software starting at $5,000.00 You can add additional modules for a fixed price.

Pay-As-You-Go
Starting at $199.00/Month
Pay a monthly fee--starting at $199.00 a month. You can add additional modules for a monthly fee.
---
Web Interface and Additional Online Functionality
Apprenticeship Tracker integrates with various web-based modules to extend the program's capabilities over the web. Modules and customization for your organization is billed at an additional charge. Modules include student functions such as enrollment, transcripts, work hours, certifications, information tracking and updates. Personnel modules include timesheets, hours worked, class schedules and more. There is also a contractor module which links contact information and permissions in your Apprenticeship Tracker database to the web so that contractors can search for apprentices with the appropriate skills for jobs. Additional functionality such as QuickBooks syncing and Microsoft Outlook sync is also available.
Custom Programming and Consulting
Custom Transcripts
Reports
Data conversion from prior software
Custom interfaces to other databases or software
Changes to input screens, data storage in Coyote Recordkeeper products
Services provided by RecordKeeper Systems for a flat-rate of $150.00/hour.
Onsite Training and Installation
We can get you up and running quickly and efficiently by having our installation staff onsite. We can convert you existing data, customize your screens and report to meet you exact needs. While on-site we can train your staff to use the product effectively.
Services provided by RecordKeeper Systems for a daily flat-rate of $1000.00/day. Travel expenses are an additional charge.