Standard Pricing
Purchase Apprenticeship Tracker outright for a one-time charge. With this option you purchase your support package separately, and, you would have to buy future upgrades. We typically advise an on-site visit to convert your data, train you on Apprenticeship Tracker's features, provide support, and program customizations which you might desire. On-site training and setup is billed at a daily rate of $1000.00 plus travel expenses. Find out more about on-going training, support and customizations on the support page and on the training page.
What Is Included
One-Time Purchase



Full program for 1 user
100 Students and 100 section licenses included.

Required Annual Support Package (per user license)²
$5,000.00 per Organization

$400
Single User
*2 Additional Seat licenses
*5 Additional Seat licenses
*10 Additional Seat licenses
*25 Additional Seat licenses
*50 Additional Seat licenses
Call for additional seats
INCLUDED
$250
$550
$1000
$2250
$4000

*Requires Filemaker Server 9 to 11 and Filemaker 10+ Client Licenses which are not included. *250 Max Filemaker Clients allowed. Optional web interfaces extend the max to an additional 250 web users

100 Student Max
250 Additional Students
500 Additional Students
1000 Additional Students
5000 Additional Students
Unlimited Students

*Licenses can be combined but a single
license level can only be purchased once

INCLUDED
$300
$600
$1200
$2400
$4000
100 Max Class Records
250 Additional Class Records
500 Additional Class Records
1000 Additional Class Records
5000 Additional Class Records
Unlimited Class Records

*Licenses can be combined but a single
license level can only be purchased once

INCLUDED
$300
$600
$1200
$2400
$4000

Web Interface Modules
All Student Functions
Personnel Functions
Contractor Functions
Outlook Sync
QuickBooks Sync
Document Management



$10 Month per Personnel
$1 Month per Student
$1 Month per Contractor

Prices negotiable based on actual features enabled and traffic use.
¹ Setup does not include travel expenses, customizations or additional programming.
² Required annual support is limited to 3 hours of support expiring annually on anniversary date.
---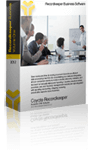 Standard
Starting at $5,000.00
Own the current software with nothing more to pay and no contract.

Pay-As-You-Go
Starting at $199.00/Month
Pay a monthly fee and receive software, support and upgrades as part of your package.