Pay-As-You-Go Pricing
Apprenticeship Tracker is available for a monthly fee of $199.00 which includes the Apprenticeship Tracker application, related filemakerPro software, and limited technical support. Technical support—typically via phone— includes basic queries about connectivity, reports, functionality, technical issues, but does not cover training on features. The one-time setup fee covers getting you up and running but does not cover training, data conversion, or customizations.
Find out more about on-going training, support and customizations on the support page and on the training page.
Or you can choose a standard rate where you guy the current version of the software and then pay for future upgrades. Learn more about standard pricing.
What Is Included
Monthly

---

One Time Setup Fee
$400.00¹
Full program for 1 user
100 Students and 100 section licenses included.

$199 Month

Single User

Each additional user*

Included

$40.00/Month

*Requires Filemaker Server 11 or 12 and Filemaker 11 or 12 Client Licenses which are not included. *250 Max Filemaker Clients allowed. Optional web interfaces extend the max to an additional 250 web users

100 Student Max
INCLUDED
250 Students
$10
500 Students
$20
1000 Students
$35
2000 Students
$70
3000 Students
$105
5000 Students
$115
100 Max Class Records
INCLUDED
250 Class Records
$10
500 Class Records
$20
1000 Class Records
$35
2000 Class Records
$70
3000 Class Records
$105
5000 Class Records
$115
¹ Setup does not include travel expenses, training, customizations or additional programming.
Web Interface
Student, Personnel, Contractor, Outlook, and Quickbooks modules
$50 month hosting fee
$10 Month per Personnel
$1 Month per Student
$1 Month per Contractor
---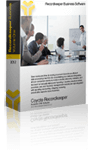 Standard
Starting at $5,000.00
Own the current software with nothing more to pay and no contract.

Pay-As-You-Go
Starting at $199.00/Month
Pay a monthly fee and receive software, support and upgrades as part of your package.